Nail Harmony Gelish - New Colours at The Nail Workshop!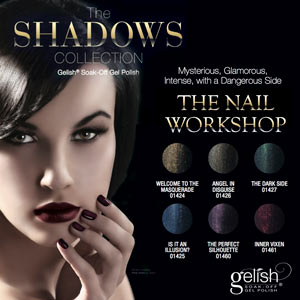 The Shadows Collection!
Mysterious, Glamorous, Intense, with a dangerous side! These new Winter shades are dark and dramatic and a must for the winter months.
The latest colours from Nail Harmony, we're sure there is something for everyone's taste... book your appointment now and get set for the Winter!
Click the image on the left to see more details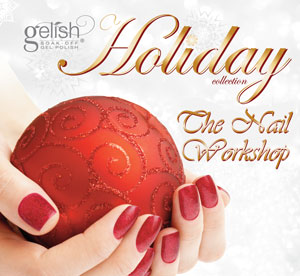 Limited Edition Gelish Holiday Collection!
All that glitters is Gelish this holiday season! This collection glistens with timeless classics Blue, Silver, Gold, Black, Red and Green dusted with chunky glitter and holographic sparkles for shimmering perfection.
Whether you've been naughty or nice this year, Gelish has the perfect shade for any Occasion! Come and get in the Festive mood at The Nail Workshop!
We have almost 200 shades and colours to choose from, and we're sure these latest arrivals will be top of the Most Wanted Lists this Christmas! Bling your fingers, and why not have matching toes!
Click the image on the left to see more details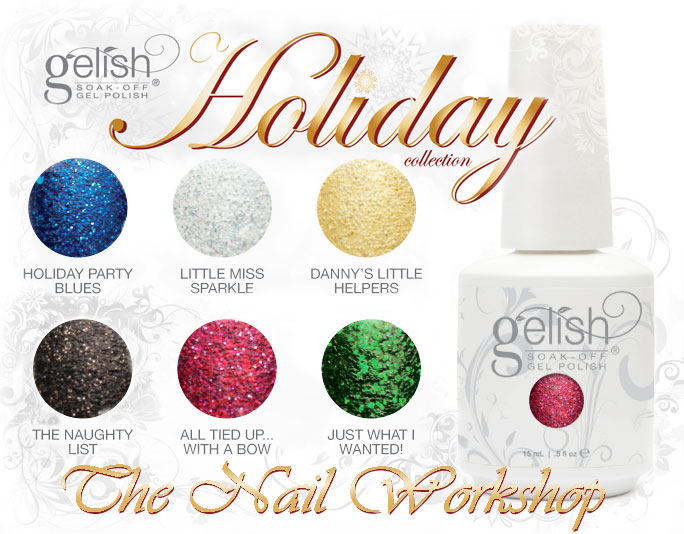 House of Gelish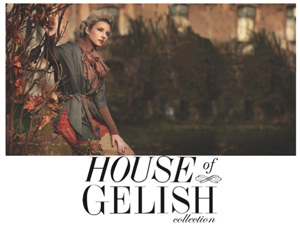 We now have the full collection of 8 colours. These are beautiful shades to suit autumn. Consisting of 8 Colours to include:

Strut Your Stuff - dark brown crème
Taupe Model - light brown with a subtle frost
A Runway For The Money - dark green crème
Fashion Week Chic - slate grey crème
My Favorite Accessory - teal crème
Cocktail Party Drama - deep purple shimmer
Backstage Beauty - red shimmer
Cashmere Kind Of Gal - light grey

Just For You Collection
Ask and you shall receive!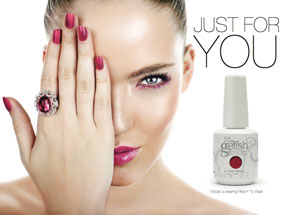 Straight from the Runway to your nails! From chic champagne to sophisticated slate grey, the Just For You Collection has the perfect shade for every fashionista. This palette of 7 velvety creams and 2 subtle frosts offer a unique take on classics that will compliment any wardrobe. This collection of long lasting super-glossy gel polish will keep your manicure fierce from day 1 to day 21 !!
Just For You Collection includes the following colours:

My Favourite Bleue-tique
Fashionably Slate
Red-y To Wear
Meet Me In Milano
After Party Espresso
Eur So Chic
Simply Mauv-elous Dahling
It Girl
Commander In Chic

New CandyLand Colours
Candy-coat your nails with a selection of shades so sweet they're sure to leave you addicted. The Candy Land collection is the long lasting, super-glossy gel-polish that will leave your fingers dripping with confectionery perfection from Day 1 through Day 21.
Colours available from Now... book now for the latest Looks!
CandyLand Colours
Sugar Daddy (blue)
Sugar n Spice & Everything Nice (darker pink)
Orange Cream Dream (orange)
You're So Sweet You're Giving Me A Toothache (baby pink)
You're Such A Sweet-Tart (green)
Don't Be Such A Sourpuss (lemon)
What's your favourite colour in the CandyLand Collection? With a choice of six spring colours, there is something for everyone.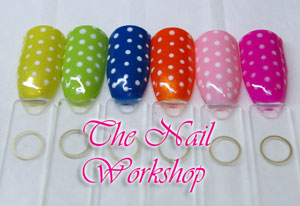 Nail Harmony UK Gelish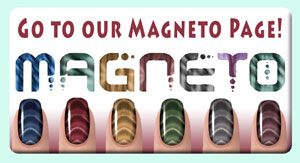 Gelish Magneto is a fantastic new soak-off product offering colour effects in a gel. It is applied like a polish and has the strength of gel. Gelish Nails are maintenance free lasting a minimum of 3 weeks and remains super shiny!!!
This is no ordinary manicure treatment, and is not only for nail enhancement customers but for the natural nail customer too. This is something new and different, and will give you a permanent nail colour lasting up to 3 weeks. This is great on toes too as it can last 8 weeks or more!! The colours are interchangeable and there are many effects possible.
This is an ideal product for anyone who is looking for something just that little bit special or just love something different on their nails.
Once tried, you will not look back.