Magento Gelish - New at The Nail Workshop!
Magneto Magnetic Nail Polish - Here Now!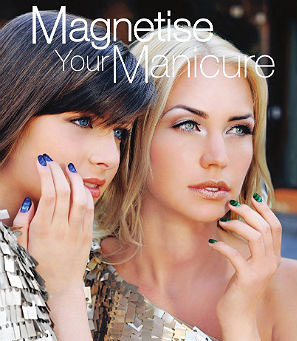 Magneto magnetic gel polish creates gel art effects in various colors of Gelish. Metal particles found in the pigments create reflections of design that enhance Gelish applications in just seconds.
When Magneto is held close to a magnet, the metal particles realign to create an interesting pattern on the nail.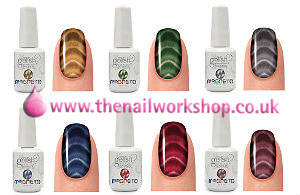 The Magneto Nail Lacquer Colour enables us to use this technique over any colour variations of Gelish. Create endless color possibilities and design effects.
Explore the laws of Attraction with Gelish Magneto, a collection of EFX Magnetic Gel-Polish and Nail Lacquer that instantly transforms your manicure from natural to extraterrestrial. The metallic particle enriched nail colors fuse with the magnet to create nail art that is truly a force to be reckoned with. The two easy to apply formulas are currently available in six unique ATTRACT-ive shades.
Gelish Magneto Gel Polish - Colours Available
Drawn Together (Brown), Iron Princess (Pewter), Polar Attraction (Green), Electric Metal Lover (Red), Don't Be So Particular (Gold), Inseparable Forces (Blue)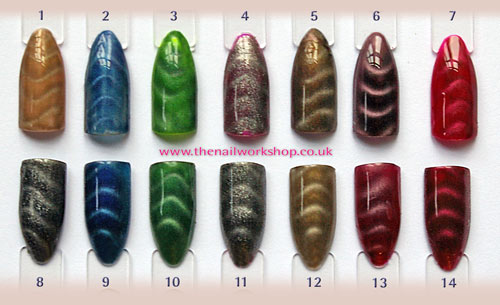 Pink Smoothie with

Don't Be So Particular

Night Shimmer with

Inseperable Forces

Neon Yellow with

Polar Attraction

Tutti Frutti with Iron Princess
Sweet Chocolate with

Don't Be So Particular

Drawn Together
Tutti Fritti with

Electric Metal Lover

Electric Metal Lover
Decadence with

Drawn together

Don't Be So Particular

Iron Princess

Polar Attraction

Inseperable Forces

After Dark with

Iron Princess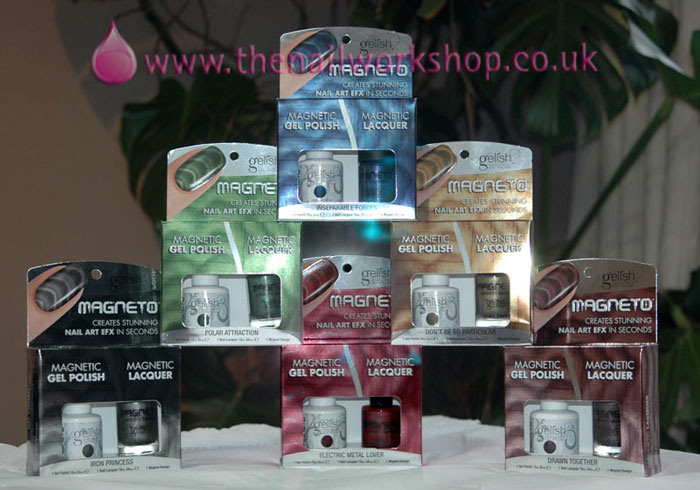 Nail Harmony UK Gelish
Gelish Magneto is a fantastic new soak-off product offering colour effects in a gel. It is applied like a polish and has the strength of gel. Gelish Nails are maintenance free lasting a minimum of 3 weeks and remains super shiny!!!
This is no ordinary manicure treatment, and is not only for nail enhancement customers but for the natural nail customer too. This is something new and different, and will give you a permanent nail colour lasting up to 3 weeks. This is great on toes too as it can last 8 weeks or more!! The colours are interchangeable and there are many effects possible.
This is an ideal product for anyone who is looking for something just that little bit special or just love something different on their nails.
Once tried, you will not look back.