Book Now for an Appointment, please call us on 01258 863854
Price List
We can apply various nail systems including acrylic, hard gel , fibre glass/silk wraps, builder gel and gel polish.
Please note all these prices include the soak off if you are having a new set. All nail enhancement prices includes Gel Polish Colour or French (There are no hidden costs). Nail art is extra and the price is on quotation before the treatment is performed. Packages are on offer for nail bitters who wish to have a Pink and White Reversed French finish and wedding parties deals. (Deposits will apply to these packages).
Payment: We accept payment by debit or credit card, cash or cheque.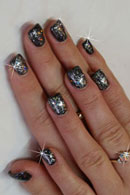 Nail Menu
Gel Polish £31.00
Gel Polish With Structure £38.00
Full Sets with Natural Tip (Including French or Colour) £44.00
Full Set Gel Reinforced on Natural Nails for added strength (Includes French or Colour ) £40.00

Acrylic/Hard Gel on Natural Nails (Includes Colour or French) £40.00
Acrylic/Hard Gel on Forms (Includes Colour or French) £44.00
Acrylic/Hard Gel on Tips (Includes Colour or French) £44.00
Acrylic/Hard Gel Reversed Pink and white on Tips/Forms ( Please allow 2 hours) £60.00
Encapsulated Nail Art under Acrylic/Hard Gel £48.00
Silk Wraps on Tips £44.00
Nail Repairs £4.50 per nail
Infills and Soak Off
2 - 3 week infill £31.00 (This does not include the cost of replacement nails. Replacements will be charged at an added cost of £3.00 per nail).
Final Soak Off and Mini Manicure £27.00
IBX
IBX Mini treatment 30 minutes £20.00
IBX Full treatment 45 minutes £25.00
IBX Applied under a new set of Enhancements £10.00
All about Toes
All treatment include cuticle work and shaping
Gel Polish Dry Pedicure £26.00
Gel Polish Dry Pedicure with a set of nails or infill £22.50
Cosmetic Toes Nail Correction £10.00 per nail
Basic pedicure without Gel Polish (40 minutes) £30, With Gel Polish (1 hour) £45
Luxury Pedicure without Gel Polish (1 hour) £45, with Gel Polish (1 Hour and 20 minutes) £60
Extra's for that added Sparkle
Prices for any extras are agreed as a quotation before the treatment is performed
The Nail Workshop Special Offers Club is available for fantastic savings. Please ask for details when you're next here or please e-mail me
Facial Wax
Price subject to initial consultation.
from
£9.50
Lip and Chin from
£10.00
Brows from
£7.00
Chin from
£7.00
Lip
Facial Threading
£1.00 Per Minute

Tinting
£17.00 Eyebrow Shape and Tint
£ 9.00
Eyebrow Tint
£12.00
Eyelash Tint
£19.00
Brow and Lash Tint
Lash Lifting / Perming including Tint
£40.00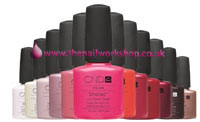 Cancellation Policy
We would be very grateful if you could let us know if you are unable to attend your appointment as soon as you possibly can. Emergencies do happen, but please let us know as soon as possible to enable us to offer your appointment to other clients on the waiting list.
If you do not attend your appointment, or cancel without giving at least 24 hours notice, there will be a cancellation charge of £25.00 for the first time this happens, thereafter the charge will be the full cost of the booked appointment. We have a waiting list and your unused appointment could be filled.
Your visit should be a relaxing and pampering experience, we ask for your help in making it so...
Please arrive on time, late arrivals put us under pressure, your treatment time may be reduced as a courtesy to clients whose treatments follow yours. Appointment times are carefully timed to avoid detaining clients beyond their allocated time. The normal treatment charges will still apply.
Please avoid attending with young children who have to sit and wait, they seldom do, and we have to divide our attention, when really we wish to be focused entirely on you.
Please excuse our using the answering machine to take your messages, this is so that we do not have to leave a client in the middle of a treatment.
Payment
We accept payment by debit or credit card, cash or cheque.