The Nail Workshop is Open. Spring and Summer 2021 bookings going fast! Book Now!
Spring and Summer collection 2021
The Nail Workshop is looking forward to welcoming everyone back from the 12th of April.
Here are the new exciting Spring/Summer collection with new beautiful glitters to match.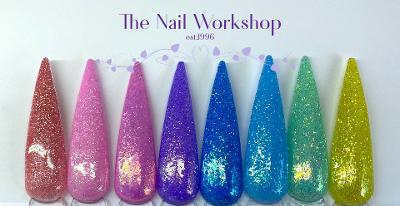 Safeguarding Practices and Procedures are in place at The Nail Workshop
The Nail Workshop is open again from Monday 12th April 2021, we continue to operate under government Covid guidelines for the nail industry to keep our clients and staff safe. I have been working in this industry for the last 24 years and have extremely high standards of hygiene at The Nail Workshop.
It is lovely to be welcoming our dear customers back and also to be able to offer a warm welcome to many new customers. To allow this to happen we developed and implemented New Salon Procedures that are aligned to government guidelines for Corona Virus Management.
The Nail Workshop is operating with the same SafeGuarding Procedures that worked so efficiently and effectively since July 2020.
For new clients The Nail Workshop operates from a SEPARATE SALON next to Myrtle Cottage. It is NOT within the family home at Myrtle Cottage and you will NOT have to enter the house at anytime.
The services The Nail Workshop provides have not changed but we have made the appropriate changes to how we operate to align with government guidelines, these new changes in business operation and our new procedures are detailed in our New Salon Procedures page which can be found as the second item in the menu on the left on this page
I hope everyone is well and keeping safe. I look forward to seeing you all soon.
Sarah x
The Nail Workshop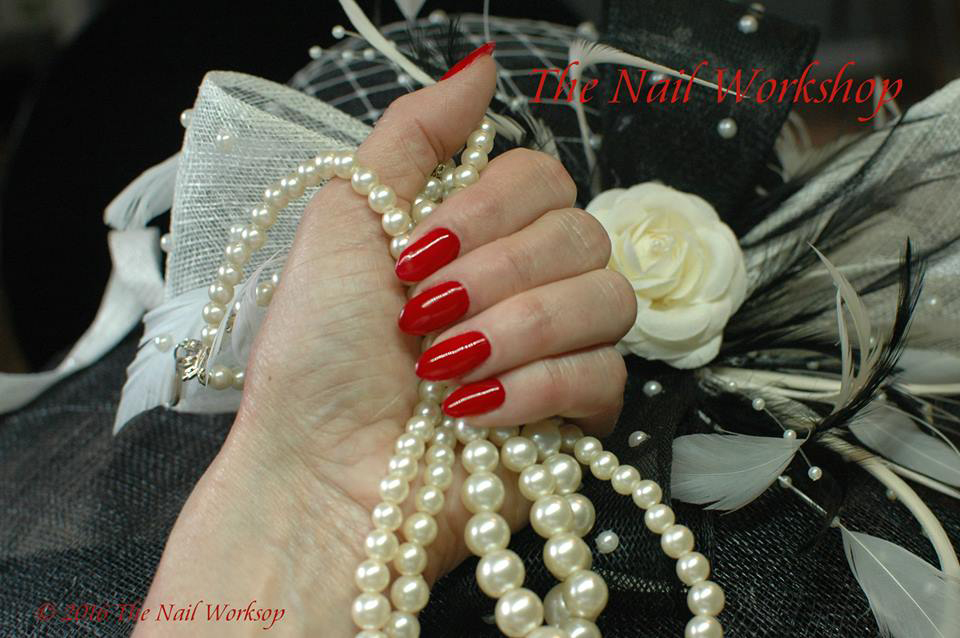 Beautiful Nails, Toes & Brows in Dorset
We offer a wide selection of nail, eyebrow and facial threading, brow and lash tinting services at The Nail Workshop using:
• Gelish,
• Shellac,
• CND Acrylic,
• Nail Harmony ProHesion,
• Nail Harmony Hard Gel,
• Gel II, Artistic Colour Gloss,
• Ink London,
• The Gelbottle,
• IBX,
• Refectocil.
Specialising in unique hand crafted nail services and nail art for everyday usage or for that special occasion like a family wedding or function.
We have expertise in enhancing bitten nails and strengthening and supporting nails that have become weak due to a wide range of health conditions using IBX. Location: North Dorset, covering the areas of Sturminster Newton, Blandford Forum, Gillingham and Shaftsbury. So if you are looking for a highly experienced, professional and innovative Nail Technician in Dorset please feel free to browse our site to find out all of the services and treatments we have to offer, or call us on 01258 863854 to book an appointment. We also deliver nail training courses as Wessex Nail Academy.
The Nail Workshop was established in 1996, specialising in providing tailored nail treatments and nail anatomy advice. We use specialist products to deliver tailored solutions to meet our clients' individual needs. The Nail Workshop specialises in bitten nails, manicures and pedicures. We use a range of Professional products to ensure a result that meets the client's needs. Fingernails and toenails can be enhanced with tips or overlays.
The Nail Workshop is at Myrtle Cottage, Okeford Fitzpaine, North Dorset, which is nearly 200 years old, having a beautiful setting in cottage gardens with views of the 15th century parish church. Your nail and eye treatments or other beauty services are delivered in The Nail Workshop studio, which is large, bright, airy, quiet, relaxing and private!
The Nail Workshop offers both studio and mobile services.
The Nail Workshop studio is situated in this beautiful rural village, within easy access of Sturminster Newton (3.5 miles), Blandford Forum (6.5 miles), , Gillingham (11 miles),Shaftesbury (9.5 miles), Sherborne (15 miles), Wimborne (16 miles,) Dorchester (19 miles), Poole (21 miles) and Salisbury (31 miles).
There is ample free parking here at The Nail Workshop.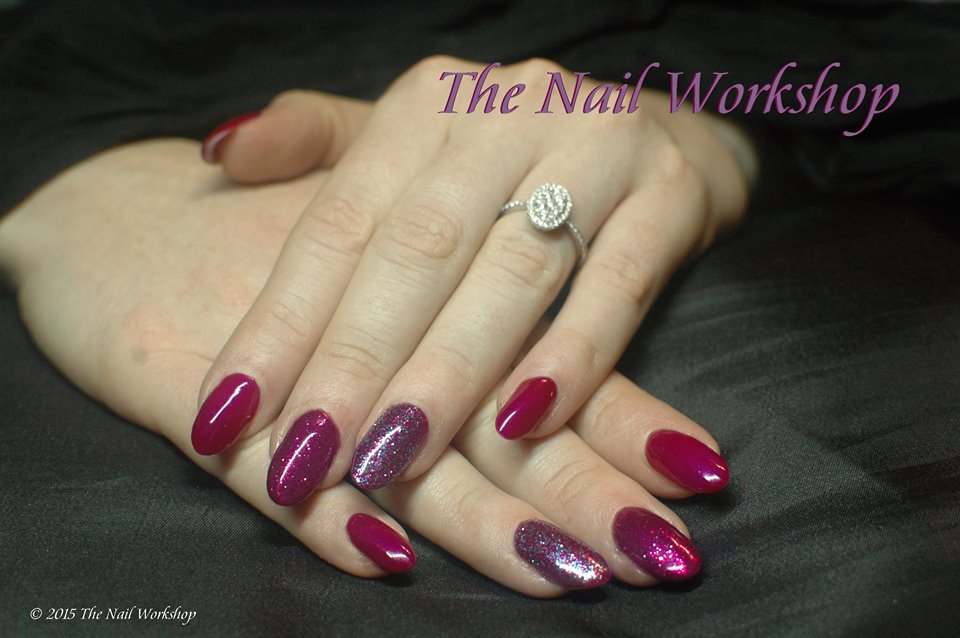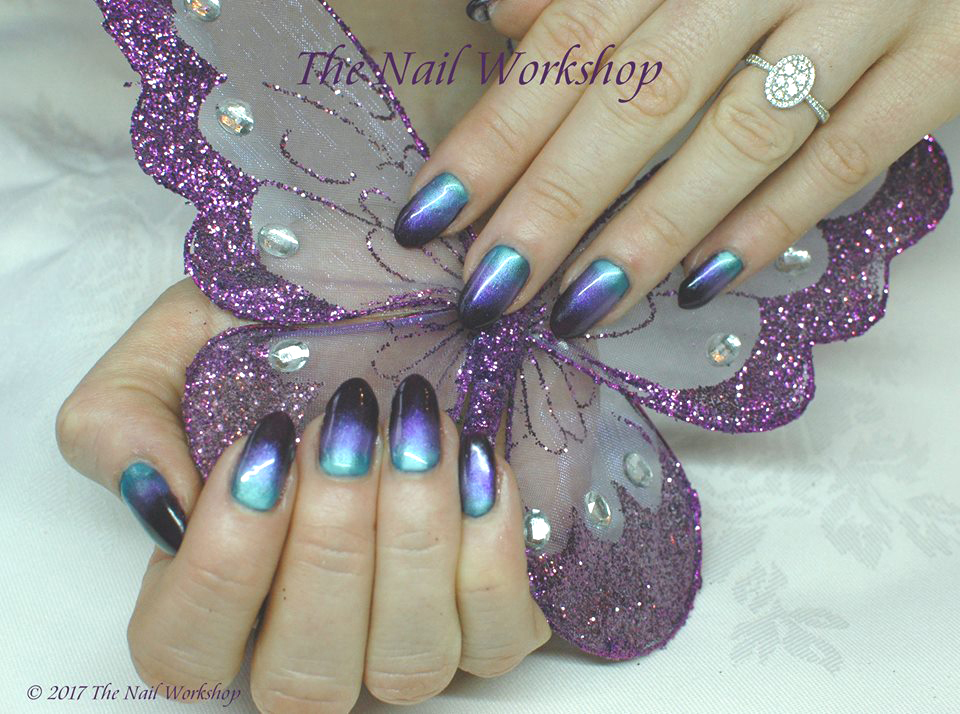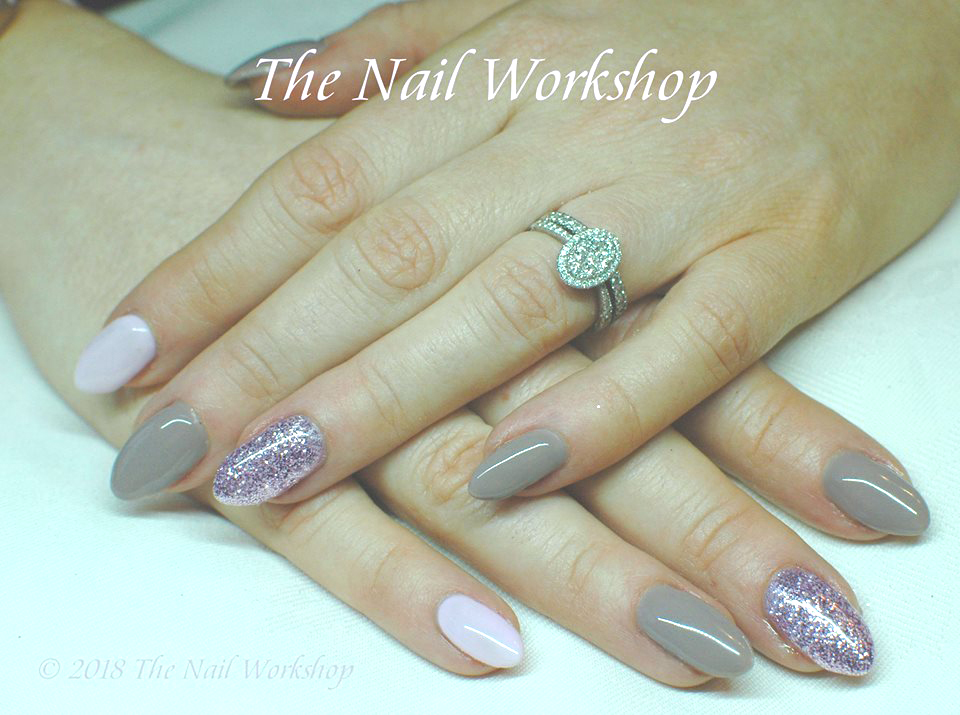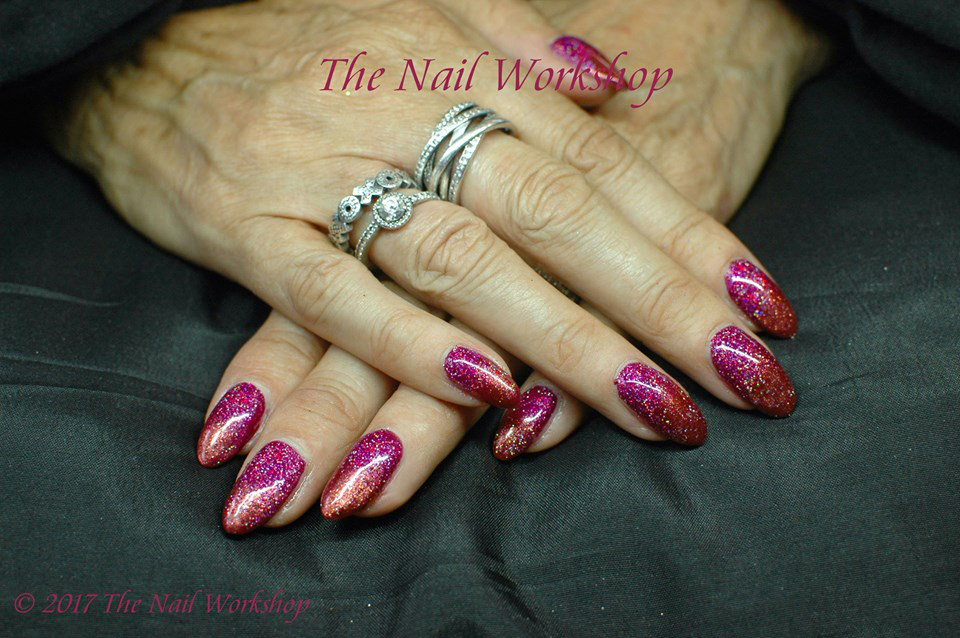 The Nail Workshop Special offers Club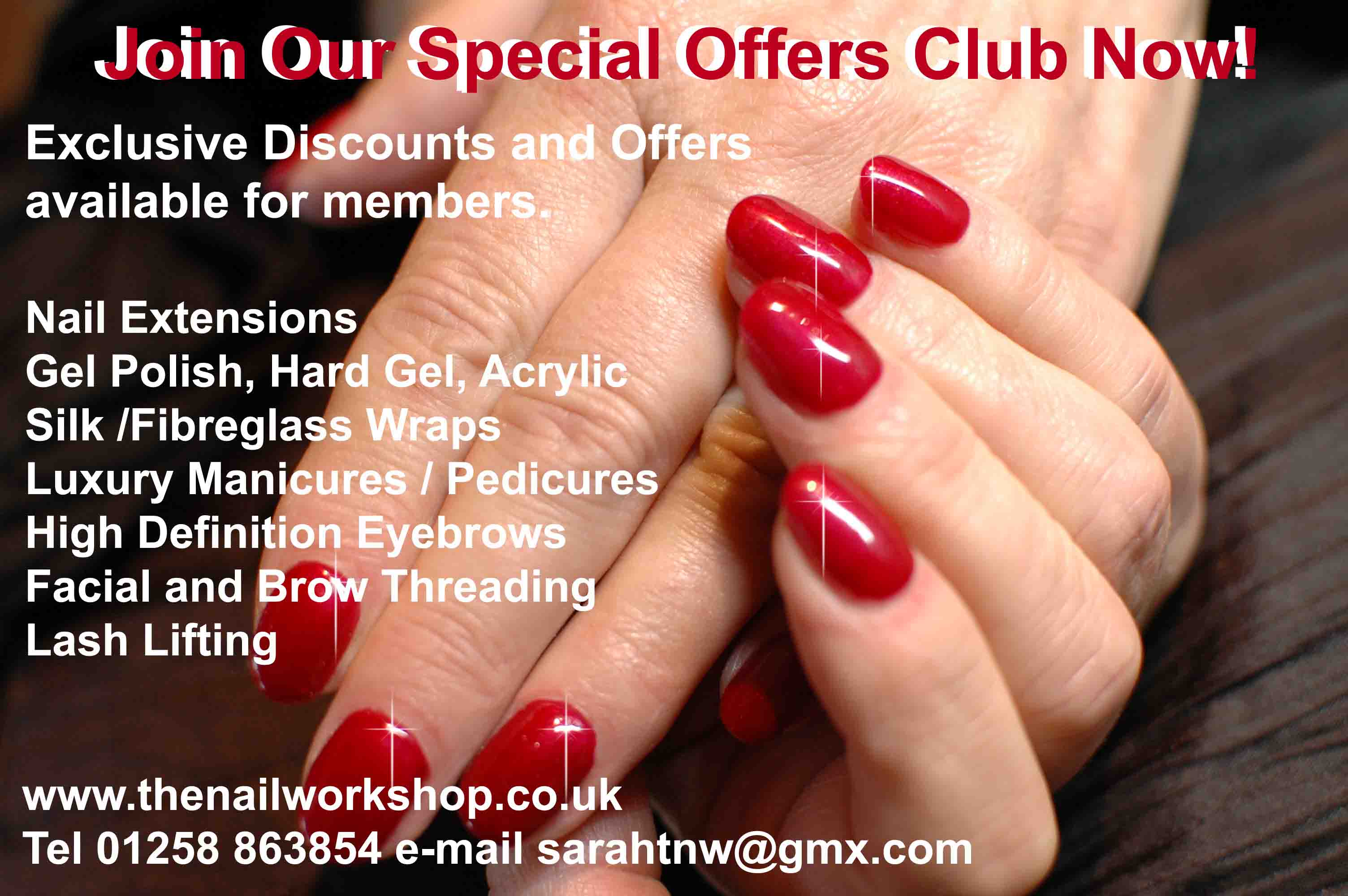 We offer a club to current and potential customers of The Nail Workshop. Please click on the Special offers image to the right for details of how to join and gain the latest offers at The Nail Workshop.
The Nail Workshop Gift Vouchers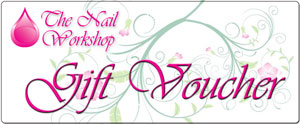 We offer a range of Gift Vouchers; choose between £10, £20 and £30. An ideal present! Vouchers can be used against any treatment offered at the Nail Workshop. Vouchers valid 90 days from date of issue.
10% Discount when you Introduce a Friend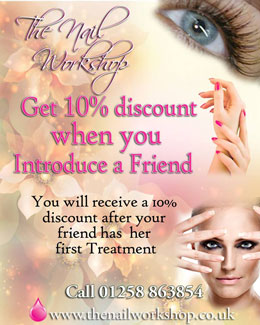 Introduce a friend and receive a 10% discount on your next Nail or Eye Treatment.
Applicable to the next nail or eye treatment you receive after the friend you introduce has their first treatment. New clients can receive this offer after their first treatment.
There is NO LIMIT to how many friends you introduce! Spread the word and reduce the cost of your treatments!
Nail Information
On this web site you will find information on all the six different nail systems that can be used to enhance the look of your nails and they are all extremely strong! Each system offers every client a chance to wear extensions because not everyone can wear acrylics or standard gel! Even the worst nail biter can wear them!
We have trained in every nail system available and have the skill to tailor each client's individual needs for the best results. Unfortunately we are not built the same because our nail plate shape and life styles vary so much.
On your first consultation, you will be asked questions about your life style, and how long you plan to wear your extensions, it may only be for a holiday, party or wedding etc and also down to the health of your own nail plates. This helps to determine which of the systems is best for you. The client can then decide if they would like a permanent French Manicure, a natural look or Gel Polish semi permanent colour, shape and required length. After the system type has been chosen the procedure will take 1 hour and 10 minutes. Each set is hand filed and crafted. Nail Art or embellishments can be added to all sets of nails.